This is for the GBWC 2011 :D
The two parts of this torso is a nightmare for masking as well as the leg parts. Here are some pre paint mods done for easy slide on of parts once painted. Sorry for the poor quality pics, my cam is still busted.
Torso:
cut off all pegs on lower part (encircled)
Lower part
the L markings on the red part were filed down to accommodate those on the grey part
Let's....Volt.....IN!
Arm and lower leg mods
Sliding the red parts on the lower leg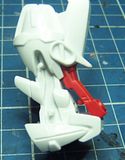 The back wing scrapes with the red part as you slide it in, nothing a bit of sanding can't handle. The front redpart is quite tricky to pull out, you have to poke it from the back using your xacto or a pin.
more pre-paint mods, i'll let the pictures do the talking: